Kenzo women's Spring/Summer 2014 fashion show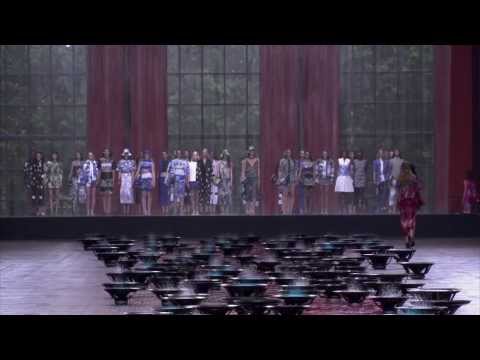 "Hailing from California, we have been impressed by the ocean, its power, its constant change, its ability to cultivate life and our reliance upon it. Our youth was also marked by the historic underground L.A. music scene and inspired us for our women's collection for Spring/Summer 2014.
We like the idea of fusing classic tailoring with beach living. Jackets featuring large open backed vents to allow for a beach breeze, printed or reversible sequins, embroidered cropped tops resembling the crests of waves and K-biker jackets are the key pieces of the collection. Prints feature geometric and graphic hand drawn acqua motifs? The melted fish prints, an observation on overfishing in already crowded marine territories, are a key print for us to bring awareness to conservation problem we all face and to alert the need for intervention on this subject.
For accessories, we have included our new bag, the Kalifornia, in all its guises and awash in the prints and fabrics of the collection. Beach meets L.A. architecture in our crossed strapped sandals with metal perforated heel and plexiglass joints. Sunglasses feature detachable "planet" earrings.
We are also very happy to announce a partnership with registered marine conservation charity the Blue Marine Foundation. The protection of marine life is essential for the development of all life. To financially assist the foundation in its effort in alleviating the pressure on the world's oceans due to overfishing and pollution, Kenzo has designed a line of men's and women's sweaters and tee-shirts. The garments wich will arrive in-store in January, will be sold in KENZO stores, on KENZO.COM and select retailers worldwide".
Carol and Humberto
Here's a selection of images that will you an overview on the show atmosphere.