Whether abstract or figurative, the wave is one of the iconic designs of our Spring/Summer 2014 collection. It is clearly inspired by the Pacific Ocean whose waters lap against the California coast, the homeland of Humberto and Carol and paradise for surfers from all over the world. The perpetual ebb and flow of waves also brings to mind constant renewal, a concept that has always been near and dear to the brand.
This "wave crest" can be seen not only in the prints of this collection but also cuts, unique to the brand's couture heritage. Large cut outs on the sides of numerous tops and coats offer glimpses of curve of the back and intriguing overlay designs.
KENZO x NEW ERA - RESORT 2014 EDITION
All images and gifs by Jess Bonham. Set: Anna Lomax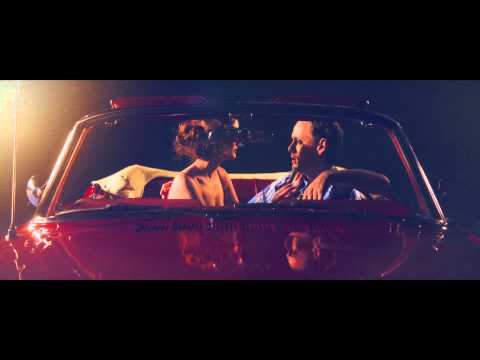 To best convey the atmosphere and themes of our Spring 2014 collections for men and women, we collaborated with director Hala Matar and actors Anton Yelchin and Lydia Hearst. The movie seeks to incite the mood and spirit we associate with America's West coast and more importantly the ambiance of early 1960's. A good introduction to our main inspiration of the season. Welcome to California!
It takes place with our two protagonists riding around a set in vintage cars, arriving at different locations reminiscent of those in old Hollywood movies. The hair is gelled, the conversation is stunted. The atmosphere brings us back to how we feel when watching a Rock Hudson movie and when we look at photos of cocktail parties in Palm Springs. For the director the connection between the cars and the collection is that they "both share the timelessness and classic feel". For us, the wave prints recall an age of visiting the beach during the heyday of 60's surfers.
Both Anton and Lydia embody the leading man versus ingenue qualities that we used to see in movies from the swinging decade. The music, borne of a collective of live musicians, a mini-orchestra narrating the action in each scene, effortlessly channeling the dance between man and woman, love and regret.